Toolbox Tutorials: Unlock the Secrets of Advanced Learning Design
Oct 30, 2023
Are you eager to delve deeper into the intricacies of adult education? Look no further, because our Game Garage proudly presents the Toolbox Tutorials – a suite of special courses designed to give you a comprehensive grasp on targeted subjects.
Why Toolbox Tutorials?
Focused Content: Each tutorial zeroes in on a particular topic, ensuring you comprehend every layer of its essence.
Practical Approach: With the mentorship of our seasoned gamification master craftsmen, dive into hands-on exercises. It's not just about knowing; it's about doing.
Actionable Insights: More than just theoretical discussions, each session arms you with pragmatic steps, ready for deployment in your existing or upcoming learning programs.
First up in November is Strategic Gamification:
Dive into the world of "Strategic Gamification" with our comprehensive guide tailored for professionals eager to leverage gamification for achieving business objectives. This tutorial demystifies the transformative power of gamification, offering actionable insights and strategies to energize your workforce, reshape business tactics, and achieve tangible outcomes. Ideal for business leaders, marketing mavens, HR specialists, and educators, participants will benefit from industry-leading expertise and flexible learning options. Plus, there's a chance to expand your professional circle by connecting with fellow enthusiasts. By the end, not only will you gain a valued certificate but also discover the vast potential of blending business with the engaging elements of play. Unlock new horizons of success and innovation with us!
Also, in November we have Presentation Skills for Introverts: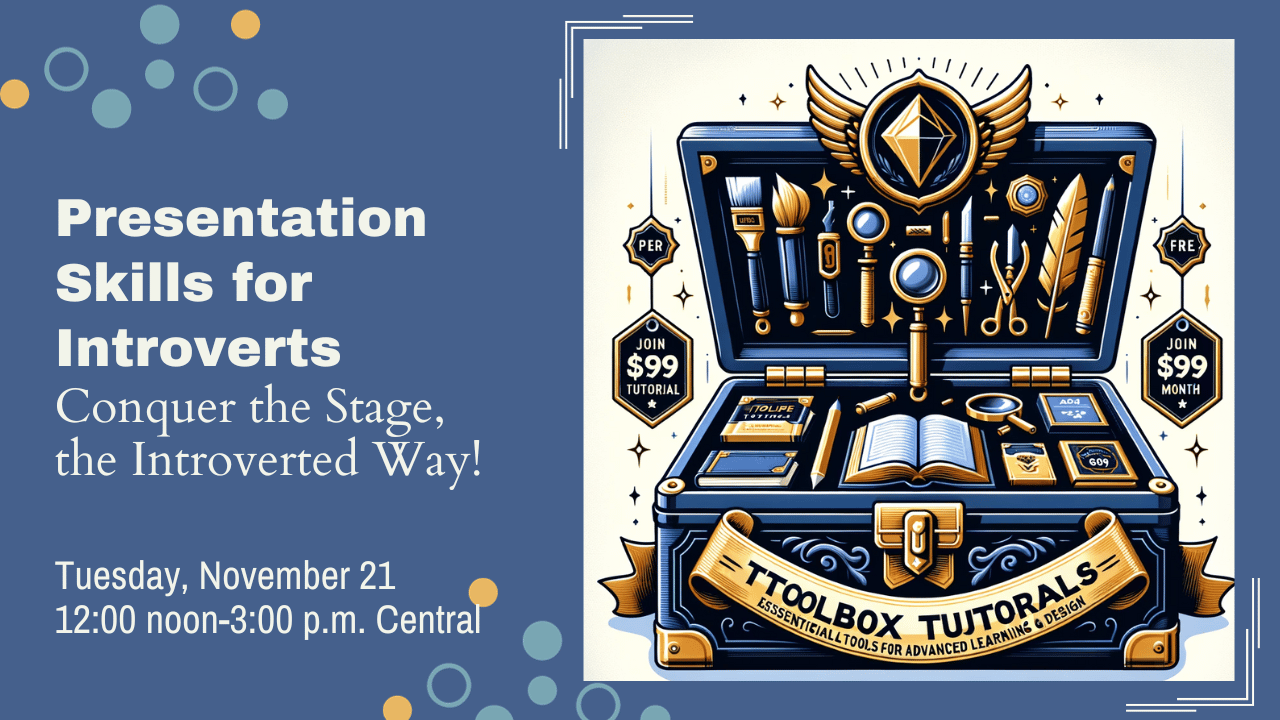 Step into the spotlight with "Presentation Skills for Introverts," a course tailored to champion the unique strengths of the introverted presenter. Embrace a curriculum that enables you to polish your presentation abilities without compromising your core essence. From mastering the art of transforming intricate data into compelling narratives to holding your audience's rapt attention, this tutorial guarantees authentic engagement and dynamic delivery. More than just skills, it's about building confidence to share your insights with conviction. Ideal for introverted professionals, technical experts, and anyone eager to elevate their public speaking game without a personality overhaul, this course celebrates the subtle power and magnetism of introverted oration. Join us and redefine presentation prowess, the introverted way!
In December you will enrich your educational repertoire with two dynamic Toolbox Tutorials destined to transform your approach to learning and development. First, delve into the world of "Learner Persona Design," where you'll master the craft of creating detailed learner profiles that drive engagement and enhance instructional design. By understanding the unique needs and motivations of your audience, you can tailor experiences that resonate on a deeper level. Then, elevate your in-person and blended training methods with "Totally Awesome Training," a course meticulously designed to invigorate traditional classroom settings with innovative, impactful techniques. Whether you're fine-tuning your facilitation skills or seeking fresh ways to captivate your learners, these sessions are your ticket to delivering unforgettable educational experiences.
Just like you, I'm brimming with anticipation for the innovative and transformative Toolbox Tutorials we have on the horizon for 2024!
Now, here's the clincher. While each tutorial is priced at $99, we offer a golden opportunity for those hungry to learn continuously. Enroll in the Game Garage membership for just $99/month or take advantage of our annual deal at $599. In addition to joining our dynamic community, you'll gain all-inclusive access to every Toolbox Tutorial without any extra charges.
Whether you pick individual courses or become a part of our close-knit Game Garage family, the Toolbox Tutorials promise to supercharge your skills and prepare you for the future of advanced learning design.
So, why wait? Embrace the future of education. Let the Toolbox Tutorials be your beacon in this enlightening journey.
Elevate your skills. Expand your toolkit. Enrich your learning programs.
Don't miss a beat!
New moves, motivation, and classes delivered to your inbox.
We hate SPAM. We will never sell your information, for any reason.